It wasn't much of a valley you had entered; a narrow strip between the hills, forested with shrubs and trees little taller than yourself. A creek merrily bubbled through the undergrowth with numerous, tiny bridges - what could they be for? They were barely wide enough for one's foot. This question is quickly answered as two horses appear. Tiny horses.
"Hi!" Greets the first, conspicuous in her green coat and bubblegum-pink mane and tail. "Name's Wacha, this here is Palun - he don't speak too much. We're Ja'alek."
At first taken aback by the abrupt greeting, you quickly warm to the friendly Ja'alek, although the other seems only to be observing you with reservation. You converse with Wacha for awhile before she finally says before disappearing, "There are more of us around, you might see 'em. Catch ya!"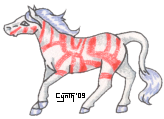 Wacha

Palun

ID

*107f

ID

*118m

Gender

Female

Gender

Male

Parentage

Dark Eternal

Parentage

Dark Waters